Bonnie has been actively involved in the sport of Agility since 1992 and competes at the national finals level as well as internationally. In 2011 she had the #1 BC AND the #1 GSD in AKC Agility! She holds Agility Championships in three different organizations with multiple dogs and breeds (visit the "our dogs" page for more).
Forty seven years of experience, first with horses, then her own dogs have given Bonnie a strong competitive foundation to pass on to those that entrust her with their training program. Bonnie believes that staying on-top demands not only continuing education for her but also the ability to do what she teaches others to do demonstrated by her continued accomplishments with her own dogs.
Not a "fad" or "systems" trainer (Agility is not a "one-size-fits-all" sport), Bonnie believes that all dogs and their owners should be treated as individuals with training approaches designed for their specific needs and abilities. She uses proven techniques customizing the training program to fit the breed of dog and/or any limitations of the handler. Bonnie encourages and motivates her students while keeping it "real" (not expecting more than a team can give or setting unrealistic rules or goals). Goals are re-visited as needed so that teams are continually growing in their abilities and skills without losing motivation and enjoyment of the sport.
Personal information: Retired CCRN (current license), past firefighter/paramedic, Army helicopter pilot, fixed wing pilot, artistic (painter, writer, instrumental and vocal musician, jewelry maker & more), scuba diver, avid photographer and home-schooled her two sons, John & Daniel. Grandparent (John)! Bonnie is a Born again believer in Jesus Christ and believes there is a heaven and a hell. There is only one way to heaven, through a personal relationship with Jesus Christ.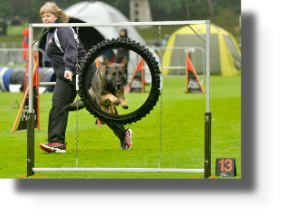 Bonnie McDonald's Biography